First Class Single Golf Bag Storage Racks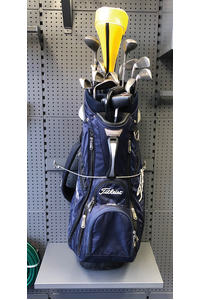 $97.90
GarageKing designs and manufactures hanging golf bag storage that is sure to keep your clubs safe when you can't be on the green. For lovers of the 18-hole game, you can't go past our smart design solutions that keep your clubs elevated and safe during the work week. GarageKing and its team of storage experts know what it takes to keep your equipment safe and sound when you can't be using it, and we have thoughtfully designed this solution to ensure the utmost safety for your set.
As one of Australia's go-to space optimisation experts, we have designed a solution that will not only keep your clubs safe, but will keep them out of the way of other household items - conveniently situated in a space where you can grab them whenever you're ready to head onto the green. Check out our stylish designs here and find out why sports fans and lifestyle lovers across Australia choose GarageKing for their storage solutions.
Golf bag storage systems for players who take their clubs seriously
GarageKing is a storage expert who believes in making the most out of a garage whether it's big or small. Space is something that can be optimised for an occupant regardless of their hobby, whether it be building, cycling or, of course, golf. This is why our designs are made to hold your set in the safest way possible, with a bottom shelf, rear support bar, wire and clips all working in unison to keep your bag steady when off the course.
Complete your garage with our extensive product range
Our gold bag storage racks go perfectly with our extended product range. If you're a DIY expert, tradie, leisure lover, or someone who simply loves keeping things neat and organised - we have exactly what you need. GarageKing produces everything from wall bays to storage cupboards, awesome accessories and just about everything you need to organise your home.
We produce full storage kits that are a DIY lover's delight. This includes highly modular wall bays, workbenches, cupboards and more, allowing you to store smaller and larger tools as well as get the job done with ease.
We only make high quality components
GarageKing designers have been taking their passion very seriously for over 45 years. With this in mind, you can trust that our products are of the highest quality and made to fit into any home design. We believe in producing components that are flexible, modular and that enhance your home's aesthetic, with stylish coats and sleek finishes at the forefront of our design ethos. Check out the collection here at our online store and find only the highest quality components.