How-To Create A Mudroom
Author: Raquel

What is a Mudroom, and How Do You Create One?
Stop using your floor, table or couch as your end-of-the-day catchall and build your family a mudroom!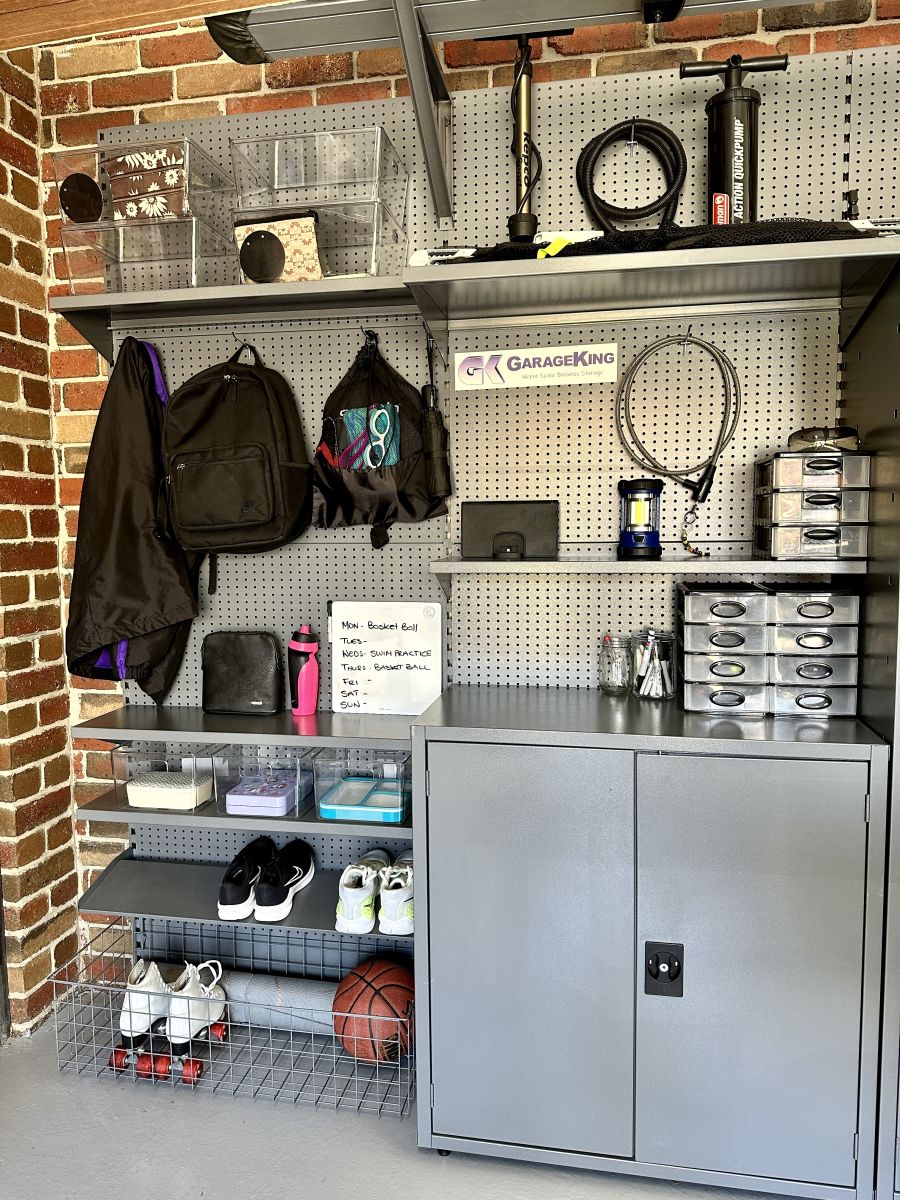 Mudrooms are becoming more and more popular. As organisation shows and blogs become more popular and common, people are inspired to tidy their homes and lives.
What Is A Mudroom?
A mudroom is a place in your home, often in your garage or near your entryway, that contains everyday items. The stuff that's usually dumped on the floor as everyone gets home at the end of the day.
Schoolbags, shoes, jackets, hats, sports uniforms, equipment, umbrellas and raincoats!
How Big Should A Mudroom Be?
How long is a piece of string? Your mudroom can be as large or small as you like. Aesthetically speaking, things always look better if they have room to breathe and space to store them neatly.
It can look a little messy if you hang two coats, a cap and a backpack on one hook.
It also depends on the size of your family and what you all love to do.
For example, a family with one child will need less storage space than a family with four kids. Unless, of course, they have a thousand interests and activities!
We recommend one section per person, and our GarageKing Smart Wall Storage Bays are available in 600mm and 900mm lengths.
Your GarageKing garage storage expert can advise you on which lengths and combinations will best suit your available wall space.
How To Create The Ultimate Mudroom!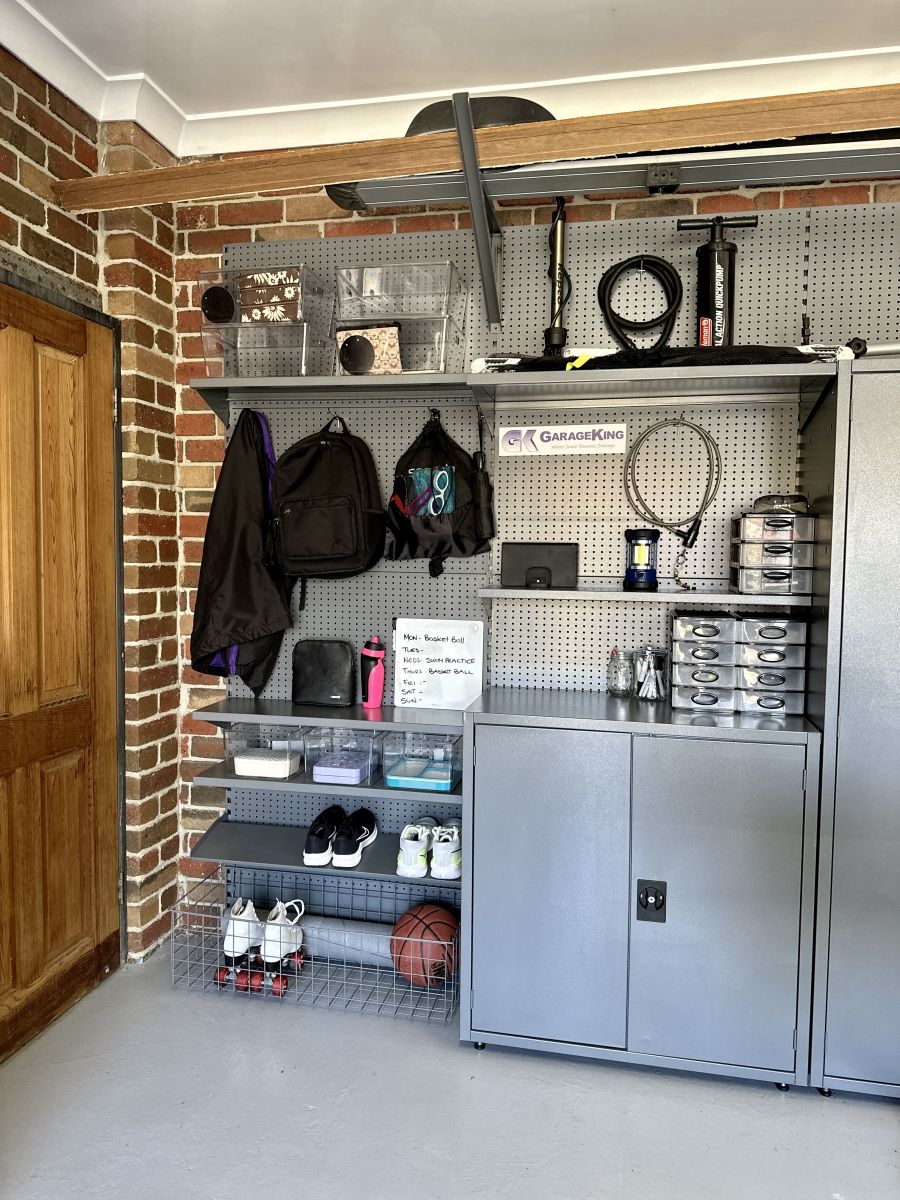 If you know how you can create a garage storage mudroom with very little effort.
It all comes down to a solid wall storage system and the right accessories.
Ultimately, creating a mudroom in your garage means that everything your kids need is near the car so they can grab and go.
The trick is to ensure they put their belongings away in their dedicated spot every day.
For many people, their garage is the main option, but that doesn't mean it can't look appealing and be easy to manage.
You can choose to create this space vertically or longways.
We're a big fan of taking advantage of vertical space in the garage because you can really increase your available storage.
It's also more pleasing to the eye, but both work brilliantly.
A whiteboard or blackboard is a great touch to keep everyone's schedule at the forefront of your mind. For example, games, training, swimming, and early or late school starts.
If you love an aesthetic-looking mudroom, invest in matching tubs. Ideally, without lids, so kids and grab-and-go or dump-and-go – If they have to remove a lid every time, they may lose interest very quickly. Especially with younger children!
How To Create A Garage Mudroom
To get started, list the items your kids and family members need access to daily so you can get an idea of the storage accessories you'll need.
Most families will need to store the following:
School & Sport Bags
Drink Bottles & Lunch Packs
Jackets & Coats
Sport Equipment
Sport Uniforms
Umbrellas
Books
Shoes
Wall Organiser – Perforated Peg Board Panels
To start, you'll need to install your GarageKing Storage System Perforated Wall Bays. This is a quick and easy install by one of our garage storage experts.
All you need to do is measure the available wall space and send it to your garage storage design expert.
Our team will arrange a free measure, design and quote to get you going. Just give us an idea of how your family will use this space.
The next step is to decide on the width of your shelves.
This depends on the size of your garage. If you don't have a lot of room in your garage, you can opt for a 250mm depth shelf. If you have lots of space, you can opt for a 450mm depth self.
GarageKing Storage Products
Metal Lockers – Perfect for hanging jackets, sports uniforms, schoolbags, laptop bags, lunch bags and boxes
Wire Baskets – Contain those items that are hard to store, balls, skates, rollerblades
Shelves – Store lunchboxes, schoolbooks, drink bottles, musical instruments, sunscreen, pencil cases,
Hooks – Hang jackets, schoolbags, sports uniforms, sports equipment like skipping ropes and goggles, hats
Shoe Racks – As the name suggests, shoes! School shoes, sports shoes, gumboots and slides.
Taking it one step further!
Does someone in your family travel a lot?
Their area could also include luggage and carry-on bags.
Pet Section
A mudroom is a great place to store items for your pets, too – and they can also have their section in your mudroom.
Taking your pooch for a walk? Hang their leads and poop bags in an area of your mudroom, and it's a simple grab-and-go situation. Just remember to hang them back up when you get home!
Store bedding, jackets, food, leads and collars, bathing and grooming supplies, pet toys and pet carriers.
---
Leave a comment