Storage For The Motorbike Enthusiast
Date Posted: 1 September 2021

Revolutionise Your Garage Storage with GarageKing
Top 5 Storage Solutions for the Motorcycle Enthusiast!
We spend a lot of money and time on our hobbies and passions, and it's important to keep our motorcycles and accessories appropriately stored to keep them in the best condition.
We are often won over by sleek and stylish displays in our local showrooms when we shop for motorcycle accessories.
However, an old rotting timber shelf covered in oil stains in the dark and dank area of your garage doesn't cut it when it comes to storing your bike or your accessories at home.
The last thing we want to do is shove that sleek machine in a corner with your leathers dumped across the seat and your helmet dangling precariously from the handlebars.
Sport bikes are a lifestyle, an adrenaline-fueled escape, and to fully live that dream, it's worth investing in a custom-designed garage storage system.
With the bonus of floor to ceiling shelving, you can store your motorcycle and gear in a relatively small area that will still feel spacious and modern.
Storing accessories like your helmet and riding leathers in a custom-built storage solution extends their life and preserves the overall integrity of your expensive riding gear.
We've installed three GarageKing Customised Wall Bays with a Pier bay in this sport bike enthusiast's garage. It gives him ample storage space and keeps all of his equipment off the floor, organised and safe from damage.
Here Are Our Top 5 Storage Solutions for Storing Your Motorcycle and Riding Gear!
Storage For Riding Leathers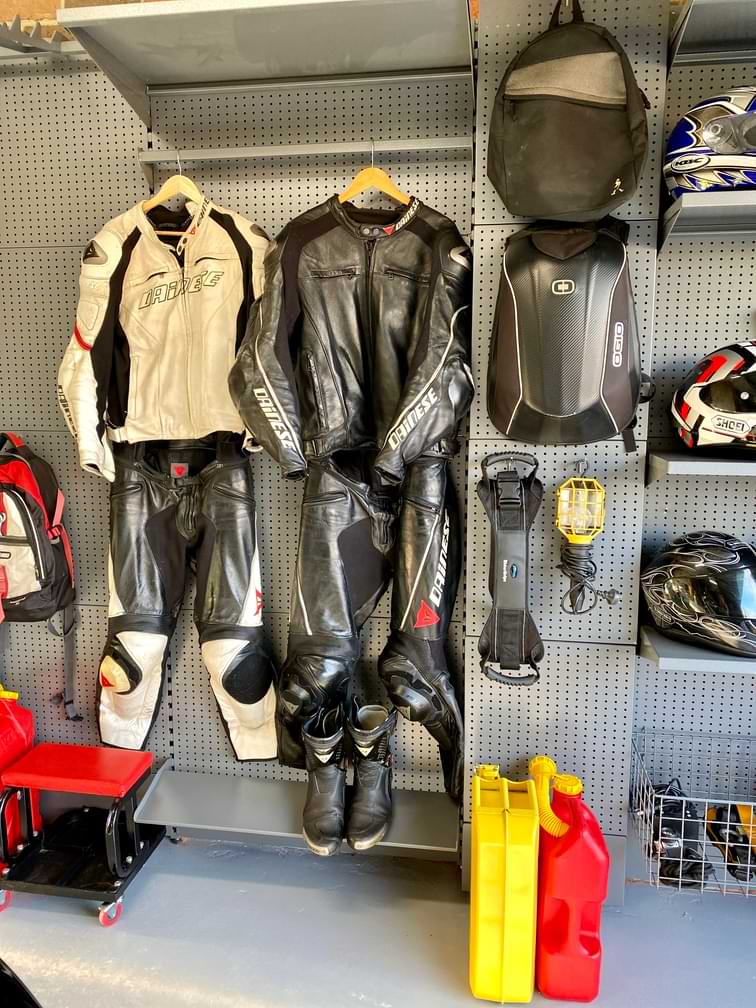 Riding leathers are a significant dollar investment, and it's essential to store them properly. We recommend hanging leathers in a cool, dry place on a strong coat hanger, as we've done with these Dainese leathers.
Our Heavy Duty Support Brackets are strong and can click into any part of your GarageKing 900mm or 600mm Wall Bays. We've attached the support bar to the very top slot of the wall storage bay, so there is plenty of height to keep them up off the floor if you want to keep them zipped together at the waist.
Leathers need to breathe to keep them in peak condition. When hung on a coat hanger, air can circulate more efficiently, which avoids dampness setting in.
You should also keep them out of direct sunlight.
Helmet Storage
Apart from your leathers, your helmet is most likely your next biggest financial investment, and it needs to be stored correctly.
It's important to air your helmet out after using it, so an open shelf storage solution is a great option.
The last thing your want to do is leave it sitting around on the floor or on some dodge shelf where it might fall and hit the ground. The less knocks your helmet takes the better it will protect you noggin!
GarageKing Shelf Kits are a sturdy and secure storage option for your motorbike helmet, but we also have lockable metal cupboards if you prefer.
Boot and Shoe Storage
We often place our boots and shoes on the floor, but a shoe rack is best to store them. GarageKing shoe racks are available in 600mm and 900mm sizes and have ample depth to hold cumbersome riding boots.
Tool and Oil Storage
Occy straps, rope, battery chargers, oil and fluids are all necessary to the upkeep of a sports bike.
Hooks and wire baskets are great for storing these fiddly accessories and keeps them neat, tidy, and out of the way.
Blue plastic bins will hold and small items that can fall between the gaps in the wire.
Storage for Track Day Accessories
If your enthusiasm includes the thrill of a racetrack like the Phillip Island Grand Prix Circuit, you might have a few extra accessories to store!
These track days are great fun, but you will need accessories like tyre warmers, wet weather slicks, tools, extra brake pads, jacks and a tyre pressure gauge, all of which need to be stored in your home garage.
We've found over the years that our wire baskets are perfect for storing items like tyre warmers. It keeps them contained in one place where they unravel and get in the way.
Shelf Kits are great for holding tool kits and jacks.
Our blue plastic bins are perfect for storing gear like gloves, Go-Pros, Bluetooth, and wheel locks. And our single or double prong universal hooks will hold hard and soft shell riding backpacks securely on your wall.
We've left no stone uncovered when it comes to storage for motorbikes and motorcycle accessories.
Get in touch today, and our sports bike expert will help you create the garage of your dreams!
---
Leave a comment