Top 5 Ideas to Create the Best Garage Workshop
Date Posted: 30 July 2021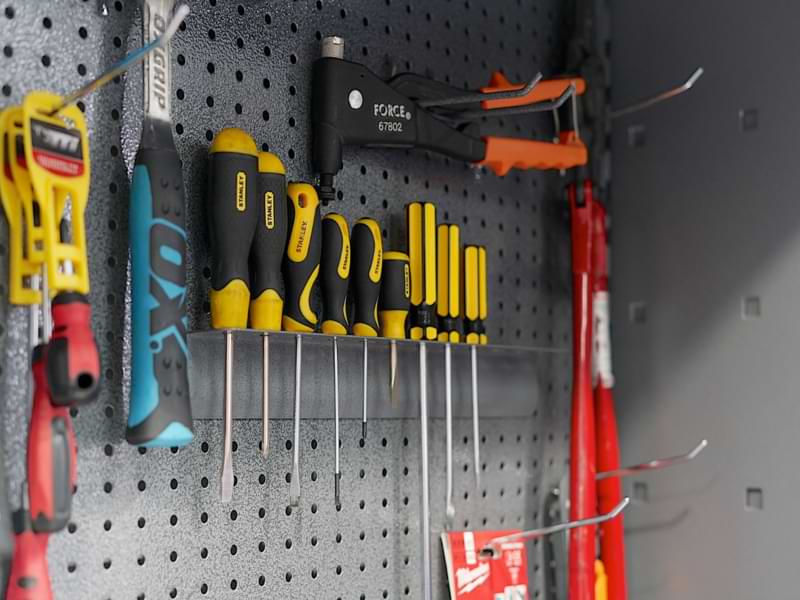 A garage workshop is the perfect place to indulge in DIY and lots of other fun hobbies. However, you need a well-organised garage to have the ideal workshop. Unfortunately, many garages are little more than a place to park the car and haphazardly store bits and pieces. So how do you go about getting your ideal garage workshop? Well, we've got five ideas that'll help!
Benefits of a Garage Workshop
If you're on the fence about a garage workshop, there are a host of benefits that'll change your mind. For starters, when everything is organised in your own garage workshop, you'll always be able to find the tools you need, whether you're fixing a minor problem with your home or undertaking your latest DIY project.
Secondly, a garage workshop can be a place to get some time on your own with a hobby you love. This can be a great way to relax on the weekend. Alternatively, your workshop may become a place to spend time with friends and family working on hobbies together. You can share your skills and knowledge and create something together!
Finally, a dedicated and tidy garage workshop is a safe and secure space to store all your expensive tools. They'll be safe from the elements, as well as out of sight from would-be thieves.
Idea 1: Workbench with Built-In Storage
Your workbench will be the centre of your workshop, but it doesn't just have to be a space for working on projects — it can also be a storage space! You may be able to buy a workbench with storage, customise an existing workbench or even build your own from scratch. Think about your storage needs and what would be the best solution.
Idea 2: Collapsible Workbench
If space is really at a premium in your garage, a collapsible workbench may be just what you need. Fold it out when it's time to indulge in your hobby and then fold it back up when you need to use the garage for other purposes, like storing your car.
You can expand on this space-saving idea by also incorporating vertical storage into your workshop. Store tools and more on the walls or even hang them from the ceiling. You can buy or make custom vertical storage or even repurpose existing materials. For instance, if you've recently renovated your kitchen and have some kitchen cabinets handy, these can be hung up and turned into vertical tool storage.
Idea 3: A Space for Every Tool
Regardless of your workbench of choice, you need to have a designated space for every tool in your garage workshop. Now, often many people try to skimp on proper storage bins and solutions by using basic cardboard boxes, but this should only ever be a temporary solution. Cardboard boxes are not moisture proof or pest proof. If your garage is damp, even only temporarily over a rainy or humid weekend, you may find the metal on your tools has started to rust! Similarly, it only takes one mouse to decide that a cardboard box in your garage is a perfect spot for a nest and then you suddenly have a plague of them.
What you want to do is plan out your storage and work out exactly what you need. This can include space required to use larger tools like saws, as well as types of storage required to ensure easy access. Don't forget to consider the space you need in your garage for other types of storage too though, like parking your car.
Idea 4: Light It Up
An organised and efficient workshop is all well and good, but you won't be getting much work done if you can't see! Make sure you have ample light to work by. During the day, this may come from natural light through windows, but you should also have some artificial light too. This way you can work any time, day or night, and clearly see what you're working on. This makes using hand and power tools far safer.
Idea 5: Make Cleaning a Breeze
All hobbies create mess and this is fine as long as you have a solution ready to clean things up again. Make sure you have a dedicated space for necessary cleaning equipment, like a broom or cleaning wipes. If you're a DIY-enthusiast, you may like to have a built-in dust extraction system, like a shop vacuum, installed in your workshop to help clear the air. Similarly, if you're going to be using chemicals or paints, your workshop needs to be well ventilated. You can get custom air circulation and ventilation systems to help with this.
Transform your garage into the workshop of your dreams today. Start thinking about how you'll make sure your workshop is a safe space to work in, as well as what storage solutions you'll need. But don't settle for store-bought, one-size-fits-most storage solutions though. If you want garage storage solutions that really meet your needs, you need custom ones from GarageKing. Get tailored, high-quality storage solutions so you can get the most out of your garage workshop! Call GarageKing today to find out how they can help you.
---
Leave a comment