Utilising Wall Space for Smart Storage Solutions
Author: Raquel Date Posted: 17 May 2021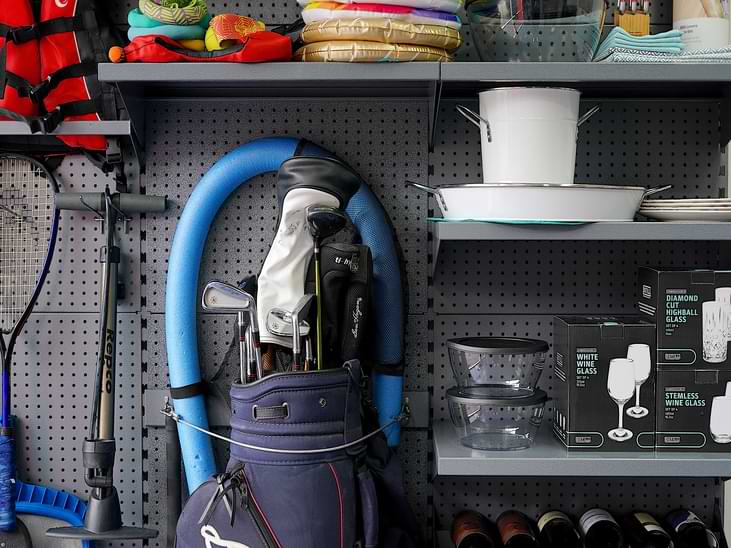 Go Upwards If You Can't Go Outwards…
Are your belongings causing anxiety and overwhelm in your life? Are you tearing your hair out in despair because you don't have anywhere you can install more storage?
Beat your storage blues and shake yourself free from anxiety because we have a brilliant storage solution for you!
Integrated Wall Storage
Integrated wall storage is a great way to remove the stress and take back control over your life and belongings.
We often hear the words, if only I had more storage space, but I have nowhere to fit it. Actually, you do! And it might surprise you how much space you have!
Head out to your garage and take a good look around. Now, look up! You will probably discover a lot of unused wall space right?
With a wall bay storage system in your garage, you open the space up to be used in many different ways.
Our unique modular steel wall system is designed to suit your individual needs, allowing you to take control of your garage and the storage solutions your need.
GarageKing – Where Space Becomes Storage
Metal shelving is extremely versatile. And not just in your garage. It's sleek and stylish and looks fantastic in often-unused areas like under the stairs or laundry and hallways leading to outside areas or your garage.
It doesn't all need to be shelving either! Our perforated wall panels have a range of accessories including 900mm and 600mm wire baskets that are perfect for storing items that don't sit well on a shelf. They are a generous 350mm deep and 250mm high and can contain all of those things that are annoying to store like sporting equipment, gardening supplies, fishing tackle and toys.
GarageKing Accessories include:
Bike Hooks
Shoe Rack
Wine Rack
Kayak Hooks
Fishing Rod Holder
Golf Bag Kit
Chisel /Screwdriver Holders
Power Cord / Garden Hose Holders
Timber Stacker
Shovel / Rake Brackets
Chainsaw Bracket
Brush Cutter Bracket
Cordless Drill Holder
Plastic Bin Kits
And a collection of different sized single and double hooks.
Suddenly you have a stylish, clean, modern and tidy space that can easily become a multi-zone area of your house.
Call us for a free measure and quote and our design expert will show you how to utilise wasted space with our diverse range of products.
---
Leave a comment